With the introduction of a series of potato deep-processing machinery into Egypt, Egypt's annual export of fries and chips continues to increase. As a French fries machinery manufacturer for more than 20 years, our hundreds of French fries production lines have been exported to many overseas countries, such as Egypt, Turkey, Argentina, France, Cameroon, etc. We recently exported a complete set of French fries production line with an output of 200kg/h to Egypt.
Why frozen french fries production is so popular in Egypt?
French fries are a kind of food that uses potato as raw material, washed and cut into strips and fried. It originated in Belgium. Delicious French fries is one of the most common fast foods nowadays and is popular all over the world.
We all know that most African countries are rich in potatoes due to the dry climate. In particular, Egypt produces about 4.6 million tons of potatoes per year, with an average annual potato consumption of 36 kg. As a result, French fries and chips are produced in Egypt in rich and cheap raw materials.
Egypt is a large exporter of fresh potatoes. With the advancement of potato processing technology, its exports of fries and chips are also increasing. In 2019, Egypt exported 50,000 tons of potato treaties and more than 6,000 tons of potato chips. In addition to exporting fries, local people in Egypt also love to eat fries.
Why this Egyptian customer choose the 200kg/h french fries processing line?
The customer originally planned to purchase a fully automatic French fries production line with an output of 500 kg/h. We have designed feasible solutions and quotations according to the customer's production requirements and plant area. However, because the client's budget was not high, we had another detailed negotiation and communication.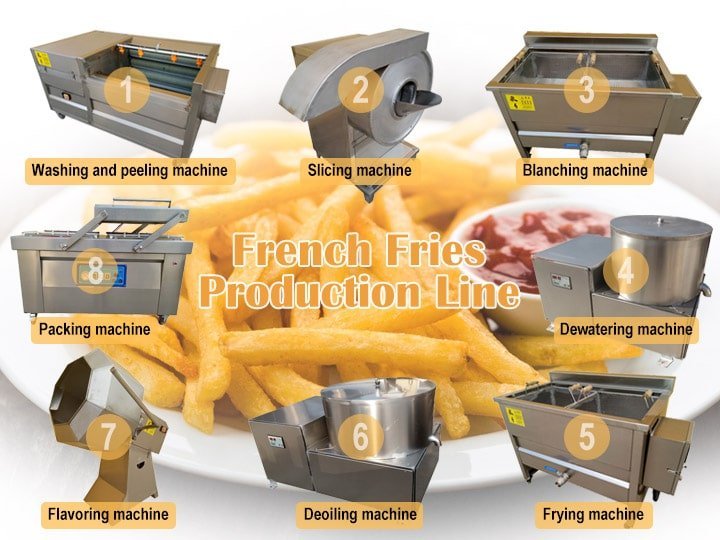 It is understood that this is the first time that a customer has invested in French fries production. His factory area is not large, but he has a lot of cheap labor resources. Therefore, we quickly modified the French fries production plan, changed the original full-automatic French fries production line to a semi-automatic french fries production line, and designed the original automatic transmission link to be manual transportation, which greatly reduced the machine investment and saved a part Investment funds.
We suggest that customers can start with small-scale fries production. If the production effect is good, they can consider expanding the production scale. After careful consideration, the customer was glad to accept our proposal and promptly paid us half of the advance payment.
After receiving the payment, we also arranged the production of the factory immediately. About a month later, our full fries production line is scheduled to ship. After receiving the machine, the customer installed it smoothly under our guidance. Now that the customer's fries factory is in production, he is very satisfied with our machine.