To extend the shelf life of chili sauce, chili sauce processors usually need to sterilize when making chili sauce. The commonly used chili sauce sterilizer machine is an ultraviolet sterilizer machine, which can sterilize various packaged chili sauces, such as chili sauce in glass bottles, chili sauce in plastic bottles, and chili sauce in bags. This commercial UV sterilizer can kill 90% of the bacteria and active microorganisms in the bottled chili sauce, ensuring that the chili sauce can be stored for a longer period of time without deterioration. In addition, the bottled chili paste sterilization machine can also be used to sterilize other foods, medicines, tea, cosmetics, etc. Therefore, many food processors will choose to purchase this type of ultraviolet sterilization equipment to sterilize various foods.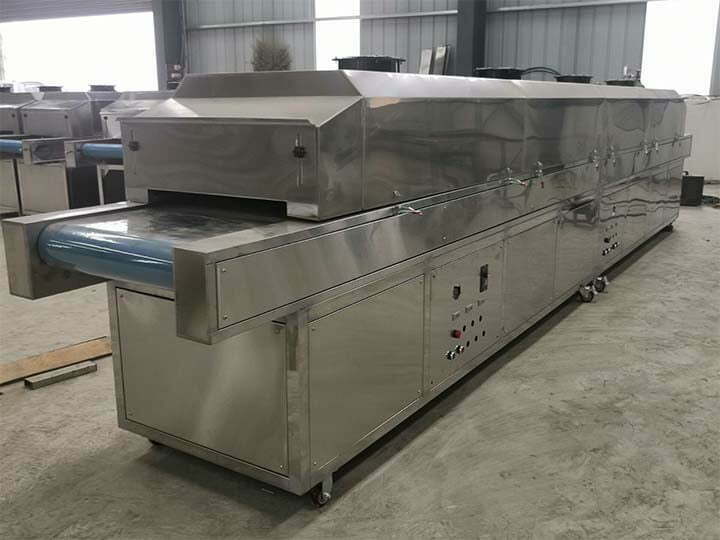 Why sterilize the chili sauce in factories?
The various chili sauce products we buy in the supermarket usually have a shelf life of six months or even one year. Why can fresh chili sauce be kept for so long without spoiling? This is because the bottled chili sauce has been intensively sterilized before it leaves the factory. After the bottled chili sauce undergoes ultraviolet sterilization treatment, 90% of bacteria and organic microorganisms will be killed, which inhibits the growth of bacteria at the root and prevents the deterioration of the chili sauce.
How to sterilize bottled chili sauce?
At present, there are many sterilization methods for bottled chili sauce, mainly including high-temperature water bath sterilization, microwave low-temperature pulse sterilization, preservative sterilization, and ultraviolet sterilization. The high-temperature sterilization of chili sauce usually uses a kettle-type high-temperature sterilization machine. This kind of sterilizer has a double-layer structure and uses high-temperature water vapor to sterilize the materials, which can be completed in about 20 minutes.
Using microwave low-temperature pulse sterilization to sterilize chili sauce is also an effective method. For chili sauce in glass jars, microwaves are penetrative to glass, and there is no need to conduct heat through the medium, and microwaves can directly heat the sauce. In the process of microwave sterilization of food, the temperature is generally about 70℃-80℃. Although the method of adding preservatives for sterilization is relatively simple, it will pollute and affect the health of food. Therefore, few factories currently use this method to sterilize food.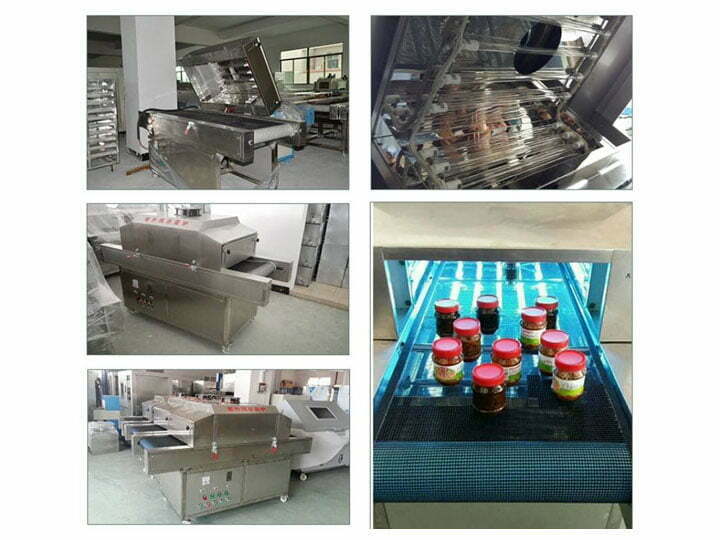 UV sterilization of bottled chili sauce is currently the most common method for the industrial production of chili sauce on the market. This is because ultraviolet sterilization does not require high-temperature heating, nor does it require any additives or preservatives, and the sterilization efficiency is high, which can maintain the original flavor of the food.
1. Equipment length: 2000mm (customizable).
2. UV working area: 1000mm (customizable).
3. Feeding operation area: 500mm (customizable).
4. Discharge operation area: 500mm (customizable).
5. Height of entrance and exit: 200mm (adjustable).
6. Width of entrance and exit: 500mm (customizable).
7. The distance between the conveyor belt and the ground: 750±50mm.
Chili sauce sterilizer machine features
The chili sauce sterilizer can effectively kill the microorganisms (such as E. coli, mold) in the chili sauce or greatly reduce the total number of bacteria to play a sterilization effect. The results of comparative experiments show that the use of ultraviolet sterilization technology can minimize the original ingredients of food, and can effectively control the total number of bacteria and the number of deadly bacteria, so the ultraviolet sterilizer is more suitable for sterilizing bottled chili sauce.