A vegetable washing machine is special equipment for cleaning vegetables, which can clean vegetables quickly and efficiently. Our vegetable washing machines are sold to Kenya, Brazil, Tanzania, Congo, and other countries. There are fries processing plants for washing potatoes, as well as larger hotels, schools, and canteens. what is the principle of a vegetable washing machine?
Insufficient manual cleaning of vegetables and fruits
In many places, the cleaning of vegetables is mainly done by hand, but manual cleaning also has certain problems. Manual cleaning has the problems of low output, large water consumption, long time spent, and high labor cost. The vegetable washing machine can be applied to all kinds of fruits and vegetables, with a wide range of bones, and the cleaning ability reaches hygienic standards.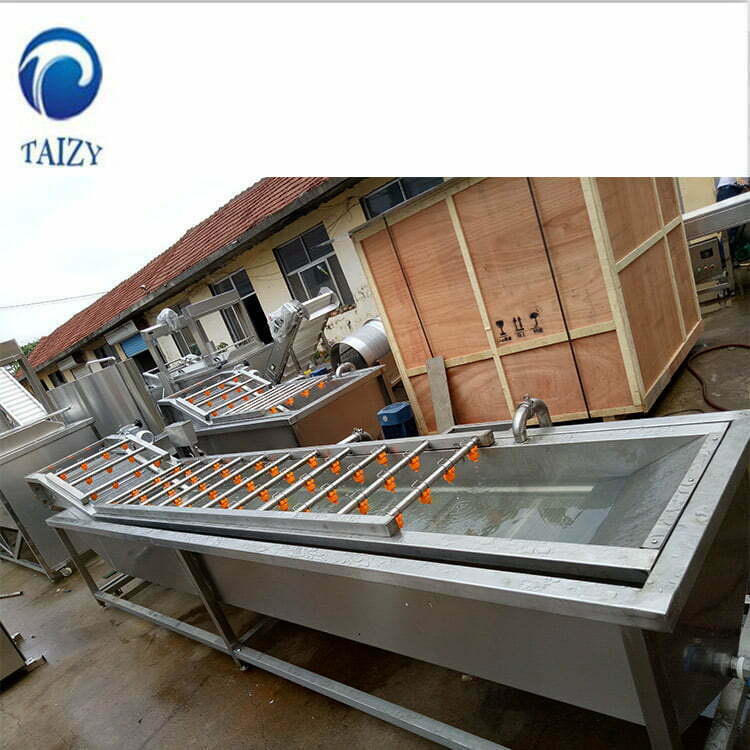 Principle of vegetable washing machine
The vegetable cleaning machine is divided into two parts as a whole. In the first half of the bubble cleaning to remove impurities, bubble cleaning is the latest cleaning technology used. The second half is spray cleaning with a brush. The cleaning tank is equipped with a high air pressure machine and the initial hole of the pipe. A large number of bubbles grow in the water so that the vegetables are constantly tumbling and scrubbing in the water. The main function of simulating the manual cleaning of the cleaning tank is to remove impurities and dust from the vegetables.
After simply removing the dust, the vegetables will be washed and the vegetables will be lifted, and the vegetables will be sprayed and rinsed during the lifting process. Can effectively remove the impurities of vegetables. Behind the connection is the brush cleaning, through the rotation of the hair roller, and the continuous friction with the vegetables can achieve the effect of polishing the surface of the vegetables, making the vegetable shinier, It is worth noting that if it is potatoes, carrots, and other vegetables, it can also be peeled while washing. These are simple explanations of the principle of the vegetable washing machine.