Boba making machine(tapioca pearl making machine)is a new-designed food processing machine, which is very suitable for making boba pearls and tapioca pearls on a large scale. This tapioca pearl boba making machine can make tapioca pearls, taro balls, boba pearls, glutinous rice balls, and so on. And we exported these boba pearl makers to many countries so that people can make the delicious bubble ted and milk tea. So far, we have exported this commercial boba maker machine to Japan, the Philippines, Thailand, South Korea, the United States, Brazil, Turkey, France, and other countries.
What is the commercial boba making machine?
Boba pearl maker machine is mainly to make flour products with ball shapes, such as boba, tangyuan, tapioca pearl, and glutinous rice ball. The raw materials for processing with this machine are the prepared dough which is made manually or by the dough mixer machine. The dough can be different kinds of flour, such as taro flour, sweet potato powder, sorghum powder, purple potato powder, and so on. The final products can be packed for selling at a good price or making good meals.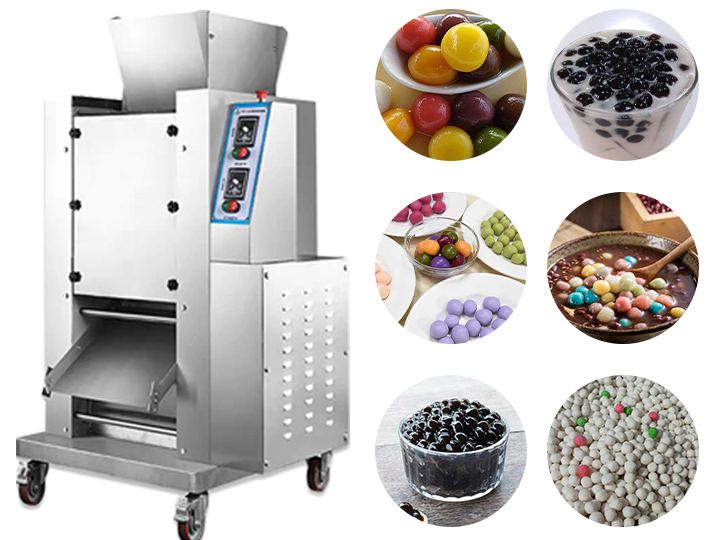 The main structure of the automatic tapioca machine
This boba maker has a very compact structure and small land occupations. Its dough inlet has a special three-layer structure for putting the wet dough and dry flour simultaneously. A pair of rollers squeeze the big block of dough into the flaky dough with a certain thickness in the upper part inside the tapioca pearl maker machine.
TZ-1200 boba maker's operating Instructions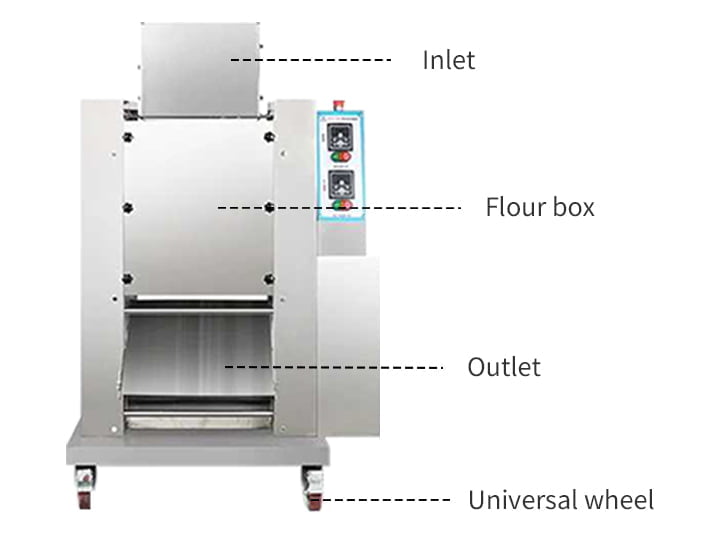 The lower part is also a pair of rollers which has many grooves for slicing small size dough slicers and rolling them to balls during their rotating. Between the two pairs of rollers, there is a rotary cutter that has two cutting plates to cut the flaky dough into smaller slicers when it rotates, and after cutting, the dough slicers will fall down the lower rollers for further cutting and rolling.
Automatic tapioca pearl machine for sale
The final ball shape of flour products will be discharged from the outlet where there is a sieve plate that can discharge the boba or tapioca pearl into the container and sieve out the dough pieces. There is another outlet on the back of this outlet for discharging the dough pieces and excess flour.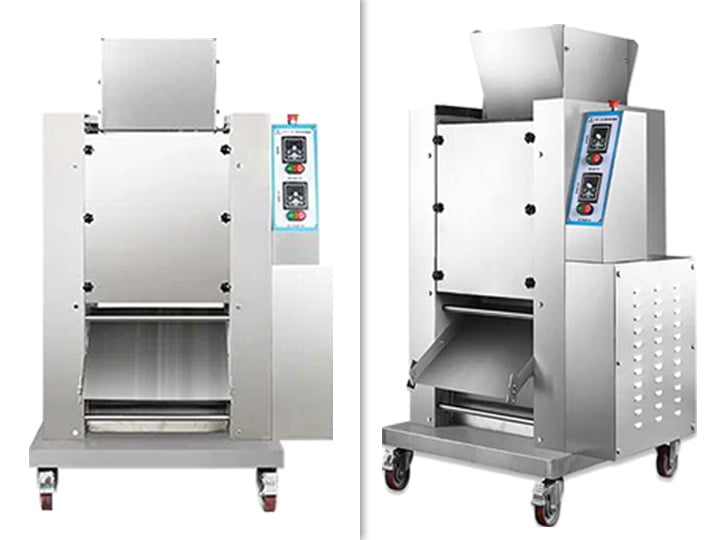 Working process of the commercial boba maker
For commercial production of boba, tapioca pearl, or tang yuan, we always should match with a dough mixer machine for making the good dough before using this machine. As for making the dough, we should use boiled water for mixing. Add 10 kg of glutinous rice flour in the dough mixer, then add 4.5 kg of boiling water for stirring. Different kinds of flour, the mixing ratio of water and flour is different.
After stirring well, we should take out the dough, and press the dough into a flat shape with a thickness of 20-25 mm. Then we put the dough into the middle inlet of the running tang yuan making machine and also put dry flour into the other two small inlets to prevent dough from sticking to the rollers, then we can see that the inside rollers will extrude the dough into ball shape flour products quickly.

How to make glutinous rice balls, boba, and tapioca pearls on a large scale?
Tangyuan making machine: mainly for making good boba, tapioca pearl, and glutinous rice ball on large scale.
Quick freezing machine: mainly for freezing the final products into a solid-state within about 30 minutes with a temperature of minus 30℃ to minus 40℃.
Automatic packing machine: mainly for packing the glutinous rice ball into separate packaged finished products with a certain quantity.
The freezing machine/cooling room: mainly for the storage of the final products and keeping their original flavor in a long period.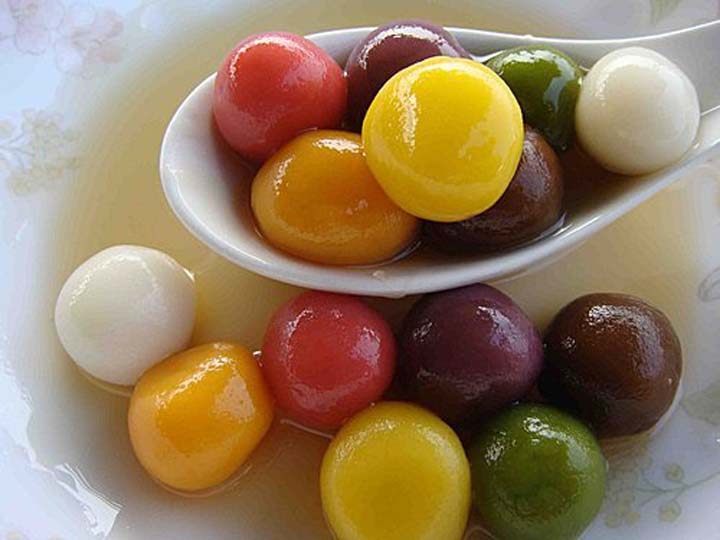 Electric tapioca boba pearls maker features
With wide applications, the final boba, glutinous rice ball, and tapioca pearl are very delicious for making different kinds of meals and milk tea in restaurants and beverage shops.
This Tangyuan making machine can be of different types, and its yield ranges from 20kg/h to 100kg/h, the diameter of the final product ranges from 6mm to 25mm. The customers can choose the specifications they want to make.
All the parts in this automatic boba machine, including the rollers and the cutter, are made of SUS 304 stainless steel, so that can make sure the cleanliness of the food and increase the machine's service life.
This boba maker has high efficiency and reliable working effect, only one person can operate it, saving manpower and costs.
With a simple and compact structure, this boba pearl making machine is easy to install and maintain, and it is also very easy to clean and move around.
Technical parameters of the boba making machine
| | | | | | |
| --- | --- | --- | --- | --- | --- |
| Model | Motor power | Production capacity | Voltage | Diameter | Dimension |
| TZ-1000 | 1.1kw | 20-50kg/h | 220v/380v | 7-25mm | 1300*950*1100mm |
| TZ-1200 | 0.55kw | 50-100kg/h | 220v/380v | 6-22mm | 1300*900*850mm |
The above are the parameters of our two tapioca pearl machines. From the table, we can see that each machine has different power, production capacity, diameter, and size. The output of these two boba making machines is 20-50kg / h and 50-100kg / h respectively.
Tapioca pearl making machine – boba maker working video
How do you make boba pearls?
We all know that the boba pearls or the tapioca pearls are the very important materials for making milk tea. However, how do you make boba pearls automatically? The Taizy boba maker may be a good choice. This glutinous rice ball making machine can make the boba pearls and glutinous rice balls very quickly. Its yield can reach 100kg/h.
How are tapioca pearls made?
The Taizy flour processing machine is the special equipment for making boba pearls, tapioca pearls and the glutinous rice balls. It is a multi-functional machine for making these flour products. The final rice ball size of this boba maker can be adjustable for making the tapioca pearls with different specifications.
What are tapioca pearls used for?
Tapioca pearl is a glittering and translucent appearance, the high nutritional value of the snack food. Not only is it easy to cook, easy to transport, and has a long shelf life, but it also has a smooth and elastic taste, and it can be used with any kind of snack food or drink with its unique beauty and taste. Our boba maker machine can make tapioca pearls with different sizes and flavors. Besides, this machine can also make sweet dumplings.
Electric boba making machine shipped to Japan
A Japanese owner who runs a milk tea shop ordered two boba pearls making machines from our factory. The processing plants of Boba Maker are both 100kg/h. At present, the Japanese customer's milk tea business is very good and has opened three branches. He is very satisfied with our boba making machine.