This electric fruit peeler machine is mainly for peeling of the fruits which is of bigger size and not easy to be peeled by hand, such as the wax gourd, watermelon, pumpkin, pineapple, cantaloupe, papaya, mango and so on. This pumpkin peeling machine is very popular now because of its high efficiency and easy operation for completely peeling and do not damage the fruit pulp.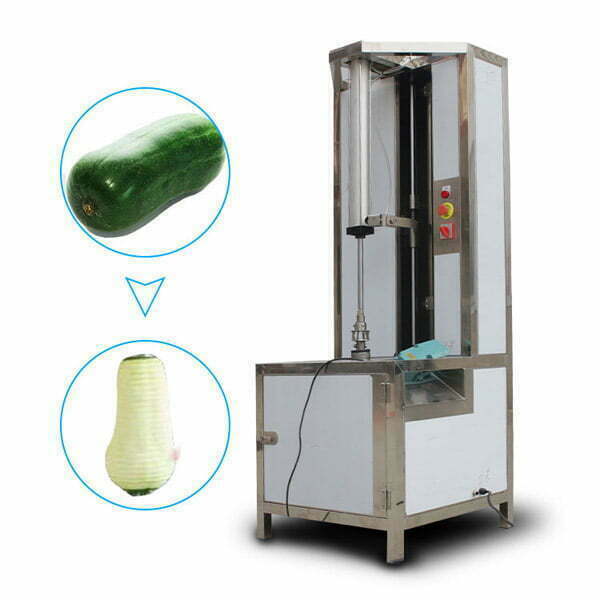 Description of the vegetable peeler
This automatic fruit and vegetable peeler machine is very suitable for peeling large strip melons such as wax gourd, pumpkin, watermelon and cantaloupe at a fast speed. This peeling machine can also be used for peeling the pineapple, and it can also be used for peeling small melons such as papaya, taro, cantaloupe, and grapefruit. It has high peeling efficiency, safety, and reliability, and the thickness of the peeling can be adjusted.
This vegetable peeler is suitable for fruit and vegetable processing plants, frozen food factories, snack food factories, wineries, western food stores, beverage shops, tea restaurants, coffee shops, canteens, and food processing plants, where is in great demand of peeled fresh fruit for food processing.
Pumpkin peeler main structure and working process
This fruit peeling machine is composed of three parts: the fame and peeling device, the air pump and air compressor and the base and inner motor. Among these parts, the peeling system is the most important part for fruits and vegetables peeling, which includes the cutter, upper and lower fixing bracket and rotary axis.
When we use this vegetable peeler, we should set the fruit on the fixing bracket manually first. Then we press the start button on the electronic controller to let this machine run. We will see the cutter will peel the fruit very quickly along with the rotating of the rotary axis. After peeling, there is an automatic discharging device that can push the material to come out automatically.
Maintenance of the melon fruit peeler
After the machine is used, it should be cleaned in time to avoid the blockage of the tool and the growth of bacteria.
Every 300 working hours, add an appropriate amount of lithium grease to the screw drive to ensure the normal use of the machine and extend the service life of the machine.
Main features of the fruit peeling machine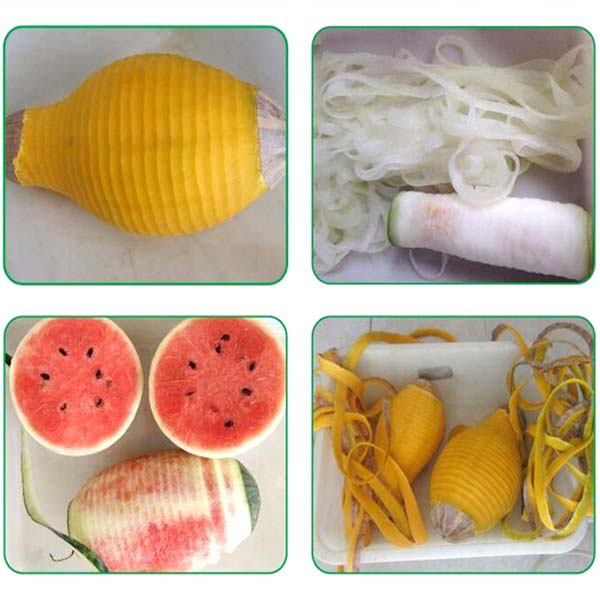 This watermelon peeler is very efficient for peeling and its peeling rate can up to 95%. Besides, the peeling thickness is adjustable so that we can control the peeling process independently.
This fruit peeler is made of high-quality SUS 304 stainless steel, which completely in line with food hygiene standards and can ensure the natural flavor of the fruits.
According to different requirements about the working capacities, we can also design this peeler machine with two peeling systems for meeting the needs of large scale peeling production of melon fruits.
Electric fruit and vegetable peeler technical parameters
| | | | | | |
| --- | --- | --- | --- | --- | --- |
| Model | Voltage | Power | Weight | Output | Dimension |
| TZ-XP1 | 380v | 0.75kw | 95kg | 120pcs/h | 750*500*1800mm |
| TZ-XP2 | 380v | 1.5kw | 190kg | 230pcs/h | 1200*720*1800mm |
Pumpkin peeling machine working video