The Philippine spring roll is just like its name, it is the Filipino version of the traditional Asian spring rolls, and the Vietnamese spring roll also has its unique making method. Philippine-style spring rolls can be used as a side dish or appetizer, which is a rare and delicious dish on the table. And having a small spring roll machine at a favorable price is a good helper for making Philippine spring rolls, which can produce spring roll wrappers with regular shapes and thicknesses in large quantities.
Main features of a small spring roll machine for sale
The small spring roll sheet machine can be operated by one person, saving labor to a large extent. The small spring roll machine has various functions and is characterized in that it consists of a baking device, a stirring device, and a regulating device, and is installed on a movable base. Its baking device adopts a hot roller.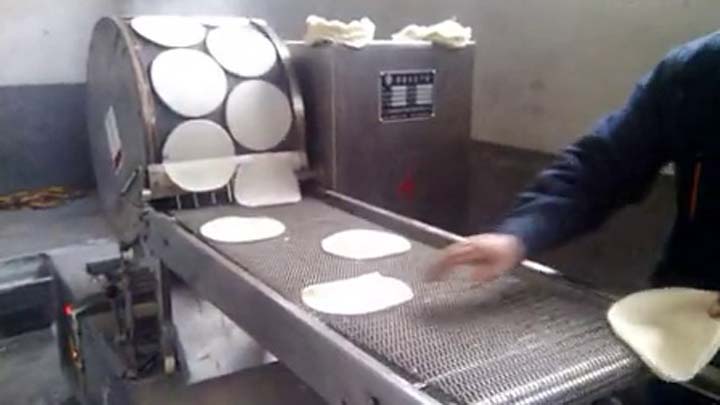 The inner wall is equipped with a ceramic electric heating tube. The hot roller is driven by a control motor through a transmission mechanism. In addition, the stirring device of the Philippine lumpia wrapper machine is that the stirring claw is placed in the middle of the storage barrel, and the stirring claw is driven by a control motor through a turbine vortex. The control device of the electric spring roll machine is composed of a knob switch on the flat duckbill to regulate the flow of dough and a scraper blade mounted on the knife holder.
This commercial spring roll wrapper machine can produce spring roll skin with a thickness of 0.3mm-2mm, and the size of the spring roll skin can be controlled within a range of 10cm-50cm in diameter. We can also customize spring roll leather machines of different sizes and different outputs according to user needs.
How is the Filipino lumpia wrapper machine price?
There are many types of spring roll machines on the market today, and the quality and output of the machines are also different. Spring roll sheet machines are small, large, fully automatic, semi-automatic, etc. Customers need to choose according to their actual production needs. In addition, due to different materials, the price of spring roll machines on the market is also uneven. Generally speaking, the price of spring roll machines made of stainless steel is relatively high because it is more hygienic and durable, which can create a greater economy for users' benefit.