The commercial rice cake machine is the very preferable equipment for popping the natural rice into delicious rice cake which is a kind of snack being popular in many countries nowadays. This electric rice cake maker is mainly to bake and press the natural rice or artificial rice into a pie with different shapes like heart shape, round shape, and so on. The Korean rice cake maker machine is a ready-to-eat snack machine that can produce crunchy and delicious cereal biscuits in front of customers so that customers can watch the original production process of biscuits. Because of its sweet taste and beautiful appearance, the rice cake has become a popular snack in South Korea, India, and other countries. And more and more people have purchased our rice cake popping machine recently for making rice cakes.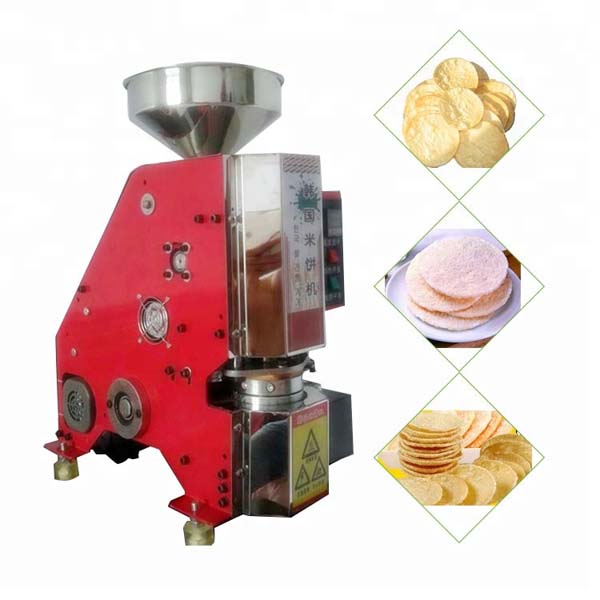 Raw materials for making puffed rice cakes
1. It is generally recommended to use brown rice, rice, red rice, artificial rice, and other raw materials with good puffing properties.
2. Barley, Job's tears, corn, etc. have poor puffing properties. Therefore, the appearance and taste of rice cakes made with 100% of these ingredients are slightly worse.
3. Other grains are recommended to be mixed with brown rice, rice, red rice, etc. Because of insufficient expansion, it cannot be molded separately. It is generally recommended to add no more than 20~30% to the raw materials.
4. It is not recommended to use glutinous rice to process rice cakes because it will stick to the mold. Black rice is the same.
5. A small amount of sesame can be put in the general raw materials. Because it can make the product more fragrant, it also effectively prevents the rice cake from sticking to the mold.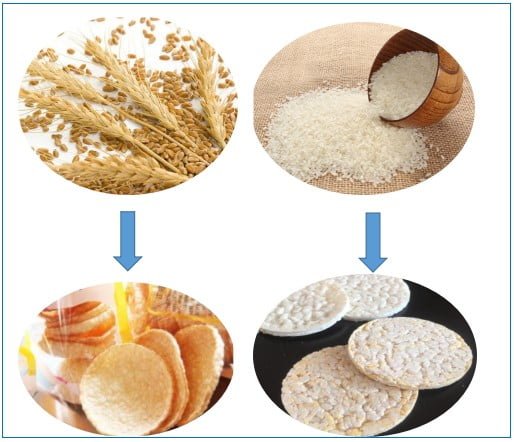 Description of Korea rice cake machine
The rice cake making machine is a new generation of ready-to-eat small food production equipment. With the 21st century, China and the world are entering the era of modern green food. The rice cake machine uses natural rice (wheat, soy flour, rice noodles) as raw material, and it has a diameter of 120-150 mm and a thickness of 5 mm. The cake is a low-fat, healthy, and ready-to-eat fashion snack food.
This rice cake making machine is a machine that uses the special nutritious rice as the main raw material and supplies it to the heated lower mold pot, and in the closed and pressurized state, the upper and lower molds are quickly opened, and the rice cake is exploded in the gap.
Rice cake making  machine's main structure and working process
The Rice Cake Maker Maker is a small snack making machine with a compact structure, which mainly includes the feed hopper, temperature display screen, switch buttons, inner chain transmission system, hydraulic system, the upper and lower dies, and so on. When it works, we should turn on the start button first.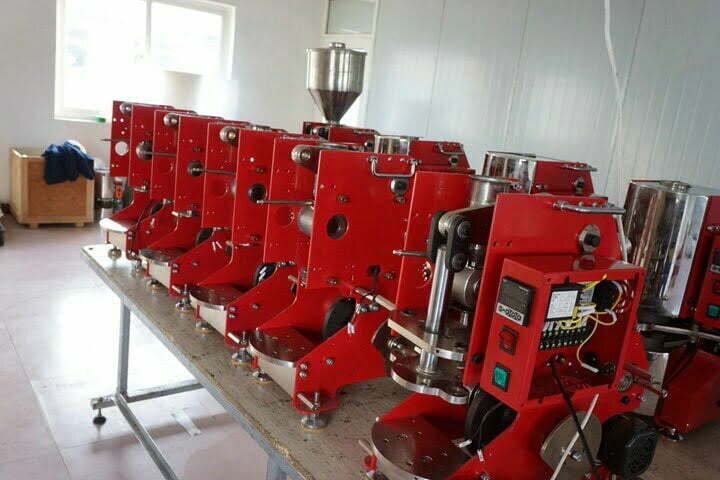 Then put the natural rice inside the feed hopper, the rice will fall to the die platen with quantitative rationing due to gravity. We can set the temperature on the screen automatically. Then the upper die will press the rice with the lower die under high temperature and high pressure.
This rice cake popping machine features a small gear motor, drive sprocket, cam, crank lever, and roller construction, and an intelligent temperature controller that automatically controls the heater to maintain a constant temperature. At work, the rice cake makers can repeatedly and automatically supply raw materials, heat, pressurize, and burst rice cakes. The whole production process of rice cakes making is clean and hygienic, and the production efficiency is high.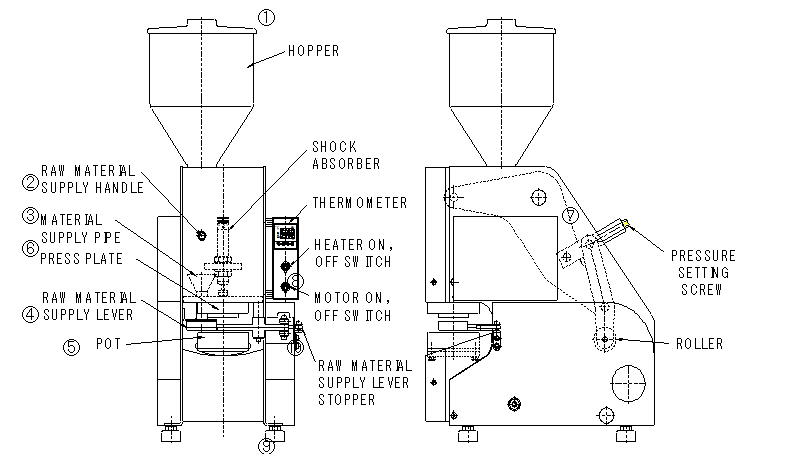 Working video of the puffed rice cake making machine
Parameter of the Korean rice cake machine
| | | |
| --- | --- | --- |
| Item | TZ-360 | TZ-450 |
| Dimension | 480*320*560mm | 600*300*750mm |
| Voltage | 110v/220v,50hz/60hz | 110v/220v,50hz/60hz |
| Power | 1.52kw | 2kw |
| Weight | 68.5kg | 75kg |
| Capacity | 360-380pcs/h | 450-480pcs/h |
Main features of the rice cake maker machines
This machine is mainly for producing all kinds of tastes of rice cakes, which is fully automatic, healthy, and green and do no harm to the environment.
With excellent design, simple operation, lightweight, and less consumption, this rice cake maker machine has a broad market, small investment, and quick profits so that it is very popular now.
The press molds can be changed with different shapes, such as heart shape, round shape, square shape, and other shapes, besides, we can also customize the shape according to the requirements of the customers.

colorful rice cake

delicious rice cake

rice cake

rice cake making

rice cakes

Korea rice cake

The rice cake making machine has a small Gear-shaped motor, driven by a protruding wheel, and has a temperature controller that can automatically control the machine and retain the machine's running under a constant temperature.
Rice cake is a kind of low-fat, fashionable, and snack food with diversified taste and full fragrance. The product is a low quantity of heat food, also is the food that reduces weight, the market potential is huge, suit the management of small investor very much, one month can recover the cost.