The ginger powder production line uses ginger as raw material and processes ginger into ginger powder through different processing techniques and related equipment. Ginger powder can be used to make food additives, pickles, soups, blends of ginger tea, etc. It is quick and convenient to use, can significantly increase the added value of ginger, and meet the needs of different families, restaurants, food processing plants, etc. Our ginger powder production line can also be used to produce garlic powder and onion powder. Our production lines can be designed as semi-automatic or fully automatic production lines according to customer needs, and some of the equipment can also be customized according to customer needs.
The production process of Ginger powder
Making ginger into ginger powder mainly includes the steps of washing and peeling, slicing, drying, grinding, sieving, and packaging. Among them, all the machine parts in direct contact with food are made of stainless steel to ensure food safety and sanitation.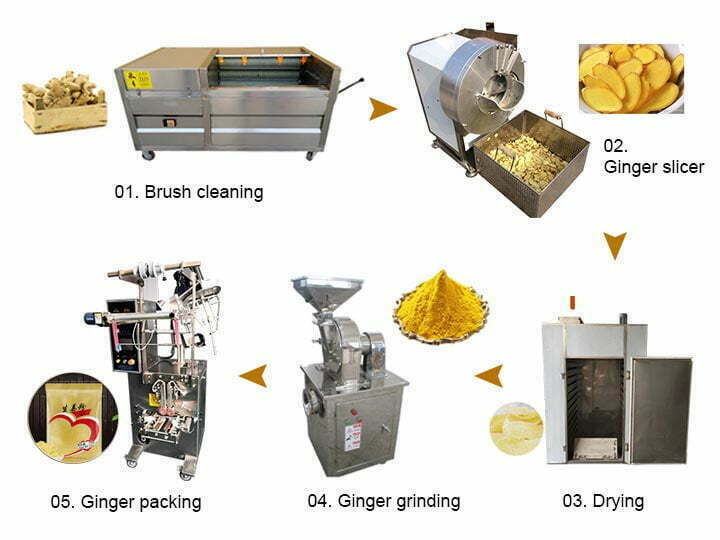 Washing and peeling: first use a brush cleaning machine to peel the ginger. During the peeling process, there will be a high-pressure water pipe to clean the ginger.
Slicing: The cleaned ginger is sliced, and it can also be cut into filaments or cubes. The function of this step is to prepare for the next drying and grinding.
Drying: Use a dryer to dry the sliced ginger. The dried ginger is more conducive to grinding, the grinding efficiency will be higher, and the quality of the ground ginger powder will be better.
Grinding: Our ginger grinder is widely used in various medicinal materials, grains, fruits and vegetables and other products. The ground ginger powder can reach 20-120 mesh.
Sieving: The sieving machine can further distinguish the fineness of the ground ginger powder. The sieved ginger powder can be packaged for the final processing.
Main components of the Ginger powder making machines
The machines included in the ginger powder production line include brush cleaning machines, fruit and vegetable slicers, dryers, stainless steel mills, vibration screening machines, and packaging machines.
Brushing machine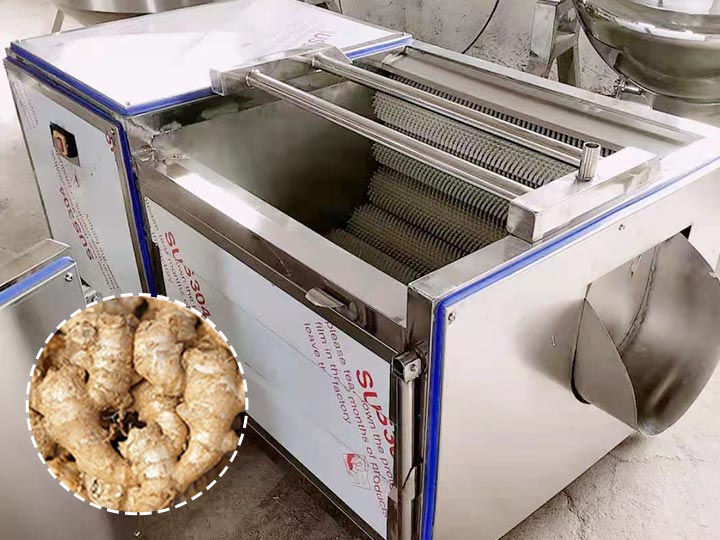 Washing and peeling machine mainly suitable for cleaning and peeling of potatoes, sweet potatoes, radishes, peanuts, and other rhizome materials. The peeling machine can be continuously cleaned, easy to operate, and has a long service life. The brush roller materials are processed by a special process and are durable.
| | | |
| --- | --- | --- |
| Model | Motor power(kw) | Production capacity(kg/h) |
| TZ-800 | 1.1 | 700 |
| TZ-1500 | 2.2 | 1500 |
| TZ-2600 | 4 | 3000 |
Vegetable cutting machine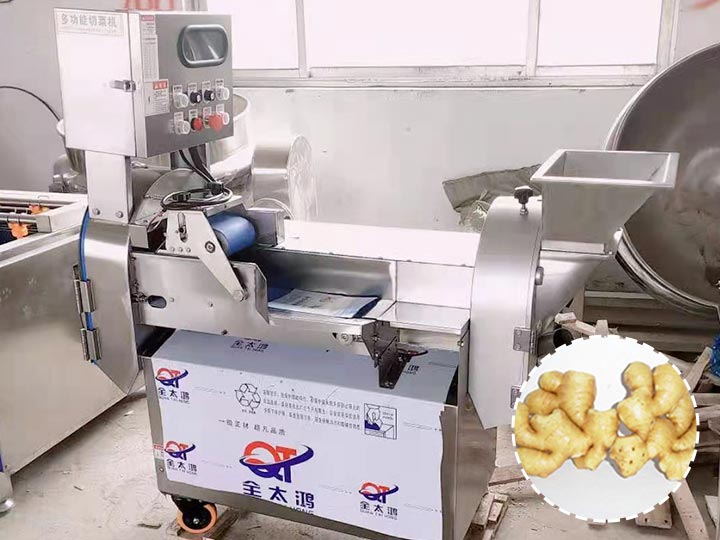 Our company has introduced a multifunction vegetable cutting machine, which can be used for cutting vegetables and fruits into strips, filiform shape, slice, or small bulk, etc. The final product is favored by our customers. The vegetable cutting machine can work continuously for 24 hours, bearing high waterproof performance, stable machine performance, and convenient operation.
| | | | | | |
| --- | --- | --- | --- | --- | --- |
| Model | Voltage | Power | Weight | Output | Size |
| TZ-865 | 220V | 750W | 70KG | 300-1000KG/H | 750*520*900MM |
| TZ-312 | 220/380V | 1370W | 145KG | 600-1000KG/H | 1100*600*1200MM |
Drying machine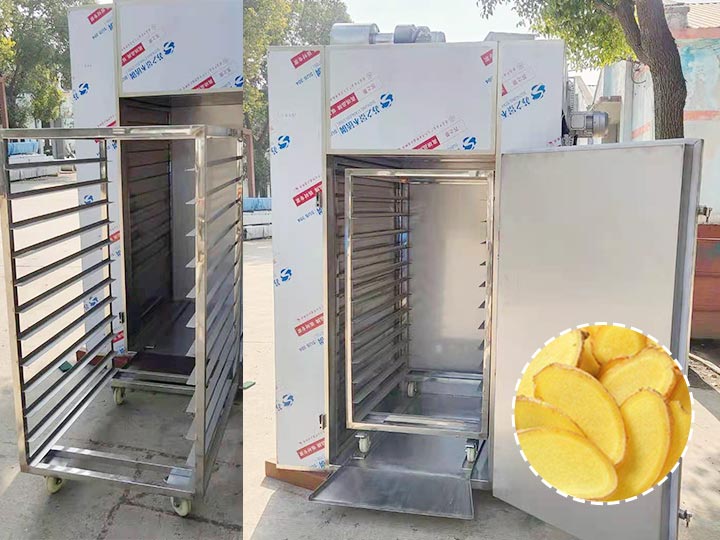 The basic principle of the CT series hot air circulation drying machine is to use steam or electricity as the heat energy, and heat is generated by the steam radiator or electric heating element, and the fan is used for convective heat exchange to transfer heat to the material, and constantly replenish fresh air to exhaust the moist air. Its biggest feature is that most of the hot air circulates in the box, which improves thermal efficiency and saves energy.
| | | |
| --- | --- | --- |
| Model | Dimensions | Power supply |
| TZ-HGJ-18 | 1500*1200*2200mm | 380V/50HZ |
| Baking pan | Material | Trolley |
| 640*460*45mm | stainless steel inside and outside | 1 pcs |
Stainless steel mill
This machine uses the activities of the high-speed gear ring and high-speed relative motion between the fixed ring gear, the crushed material by the impact of the tooth plate, friction, and collision among the materials themselves combination to achieve the goal of crushing material. This machine is of simple structure, stable running, low noise, food crushing effect. Shredded material directly from the crushing chamber. Particle size, by choosing different aperture of the mesh to achieve.
| | | | |
| --- | --- | --- | --- |
| Model | TZ-180 | TZ-40B | TZ-80B |
| Production capacity(kg/h) | 20-50 | 160-800 | 800-2000 |
| Feeding size(mm) | 6 | 2~12 | 2~15 |
| Crushing fineness(mesh) | 10-120 | 10-120 | 10-120 |
| Wight(kg) | 120 | 400 | 880 |
| Spindle speed(r/min) | 4500 | 3400 | 3200 |
| Motor power(kw) | 2.2 | 11 | 37 |
Vibrating screen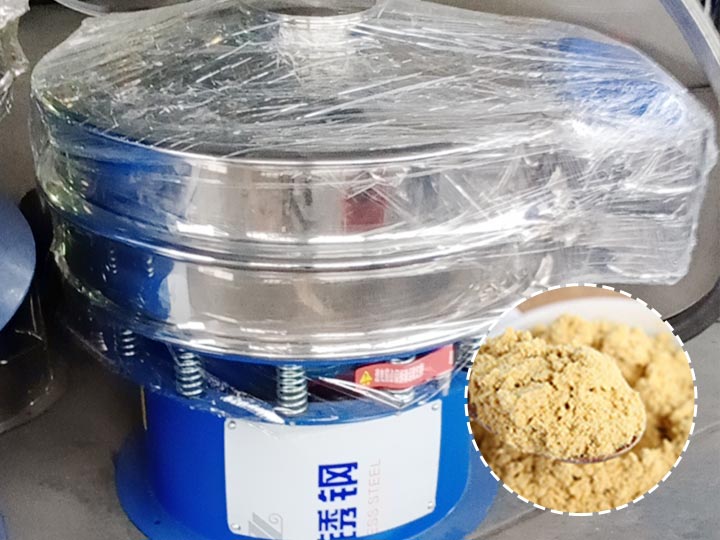 The rotary vibrating screen is a high~precision fine powder screening machine with low noise and high efficiency. It only takes 3~5 minutes to quickly change the screen. It has a fully enclosed structure and is suitable for screening and filtering particles, powder, mucus and other materials.
Packing machine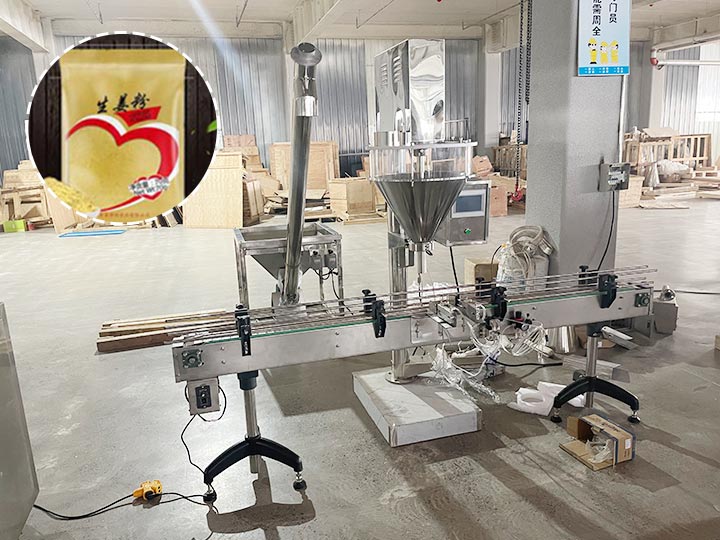 Features of ginger powder production line
The machine is made of stainless steel, which is safe and hygienic.
According to customer needs, it can be customized as a semi-automatic or fully automatic production line, which is efficient and time-saving.
Our machines have high output, save labor and improve work efficiency.
After decades of product development and customer service, our production line can greatly meet the actual needs of customers and is your best choice.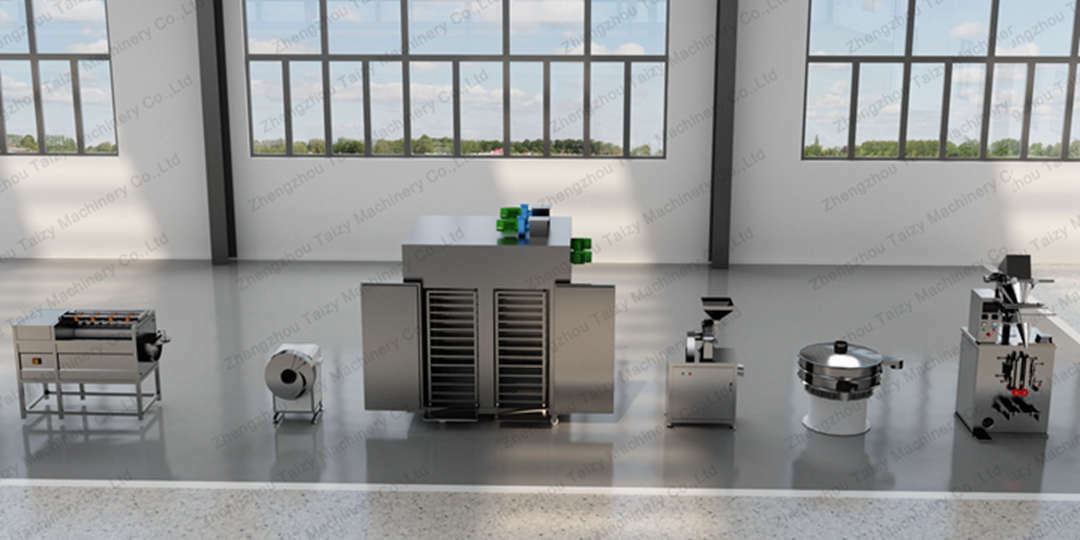 Application of ginger powder production line
Our ginger powder production line can also be used to make onion powder and acid powder, each of which has a wide range of applications. Having such a set of production lines can make your food processing more effective.