The rapid development of the coding and marking industry has been widely used in all walks of life. It is no longer difficult to use egg coding machines to print codes on eggs. Coding on eggs allows customers to see the production and processing records of eggs, allowing consumers to buy with greater confidence. It also allows the egg product to achieve a premium price, which is very helpful for brand promotion and marketing.
What is an egg coding machine?
An egg printer is a machine used to mark basic egg information on the surface of the eggshell. The printing speed and interface features of the egg printer allow it to be linked to all types of egg grading equipment. This ensures high-speed and high-quality logo printing. There are two types of egg printers on the market today, one is a small character printer and the other is a high-resolution printer.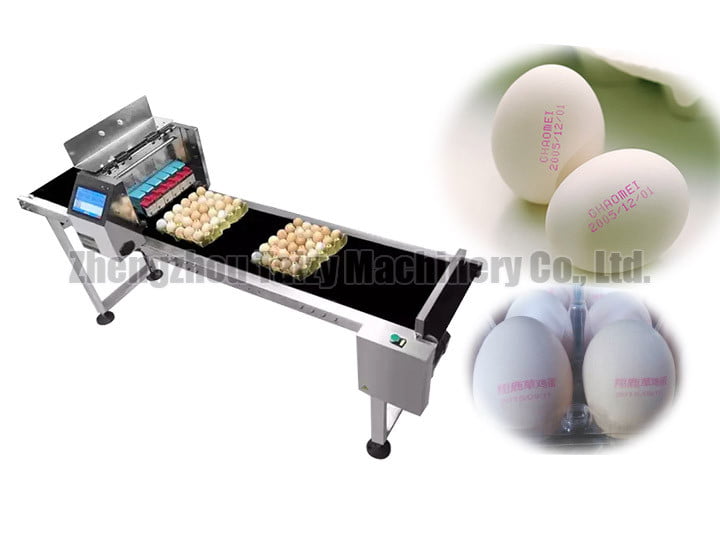 Small character egg coding machine
Small character egg printer printing effect for the dot matrix font. This machine has a wide range of colors, and more types of ink, such as colors such as red, blue, purple, black, and other options. It can achieve high-speed printing. It can print graphics, text, numbers, logos, and other information. When buying a small character egg printer, we must understand clearly whether the supplier has the relevant qualifications, as well as the ink test report. Make sure that the ink has and complies with ROSH testing, MSDS, and other reports. Because eggs as food, you need to maximize the assurance that the food meets safety standards. The price of this egg printing machine is about 20,000RMB-50,000 RMB.
Multi-jet high-resolution coding machine
The multi-jet high-resolution egg coding machine is equipped with a conveyor and a whole tray of coding. The productivity of the machine is very high. Of course, the price is also much more expensive than the small-character inkjet printer. Depending on the function and configuration, the price is about 100,000 RMB.
We all know that the multi-jet thermal foam high-resolution inkjet printer can be fixed above the conveyor belt by the gantry bracket. When the whole tray of eggs passes, the whole spray code is realized at once, and the efficiency is much higher than that of small characters. The main reason for this is still the increase in the number of printheads, resulting in the purchase cost of this egg coding itself is also very high, thus affecting the overall price.
If you want to buy an egg coding machine, welcome to contact us at any time. We will reply to you as soon as possible. In addition, we also have egg grading machines for sale.