The commercial egg sorting machines are also called egg weighing classifiers, embryonic egg weighing machines, embryonic egg grading machines, etc.  The egg sorting machine is often used for grading and weighing various poultry eggs, such as duck eggs, chicken eggs, and goose eggs. At present, there are many types of egg grading machines on the market with different functions. So how is the chicken egg sorting machine price? And how to find a reliable egg grading machine manufacturer?
How does the egg sorting machine work?
This automatic egg weighing and grading machine can weigh, grade, and light-check eggs. Its conveying system can send eggs into the weighing system at a uniform speed. According to the egg weight and the pre-set egg weight level, the manipulator on the machine will divide the eggs into different areas for collection.
This commercial egg sorting equipment has various specifications and can be suitable for the production needs of chicken farms and hatcheries of various sizes. Besides, the processing capacity of this egg grader is between 1000pcs/h and 45000pcs/h, and users can choose according to the actual production needs of their own farms.
How is the chicken egg sorting machine price?
The egg sorting machine price manufactured by different egg sorting machine manufacturers is different. This is because different manufacturers use different raw materials to manufacture the equipment. If it is made of carbon steel, the price of the egg classifier may be lower. And, if it is made of 304 stainless steel, its price is higher.
In addition, the price of the egg grading machine of different specifications is also different. The greater the output, the more expensive its price. Usually, our customers use the egg grading equipment to grade and screen out embryonic eggs from their own farms.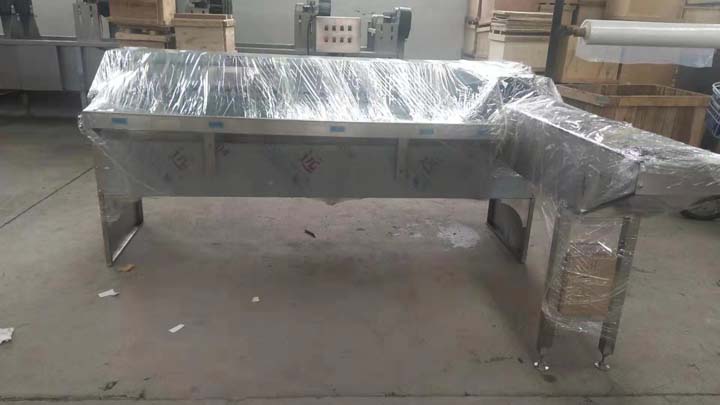 Industrial chicken egg sorting machine for sale
The automatic egg grading machine developed by Taizy factory is a new product independently developed on the basis of introducing foreign technology. And it has obtained national patent authorization. The machine only needs 1-2 operators in operation.
After workers put the eggs on the conveyor line, the equipment can automatically distribute the eggs to different collection baskets according to the weight of the eggs. The commercial chicken egg sorting machine has the characteristics of reliable performance, convenient operation, high efficiency, and the eggs are not easily broken during the grading process.